Since I was not able to visit my hometown, Ban Nongbone during my trip to Laos last year, I asked Aunt Kian to drive by the neighborhood and take some photos for me. After her visit to Wat That Luang, which is up the street from my former house, Aunt Kian went to Wat Nongbone, my temple and also where I started first grade there. The temple is a resting place of my sister. She was cremated there and her Tad is there somewhere. When I go back to Laos the next time I will try to find her Tad. I was heartbroken that my parents didn't take me to the temple to pay respect to my deceased sister.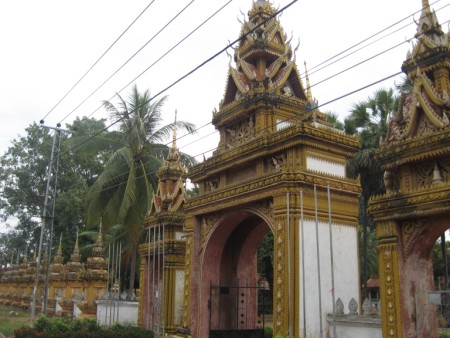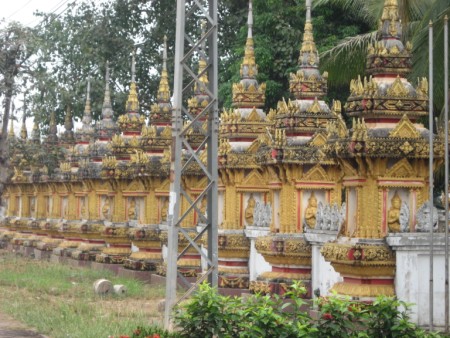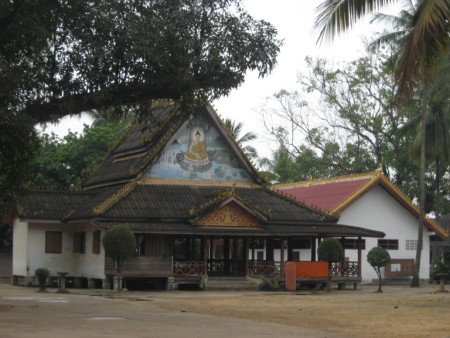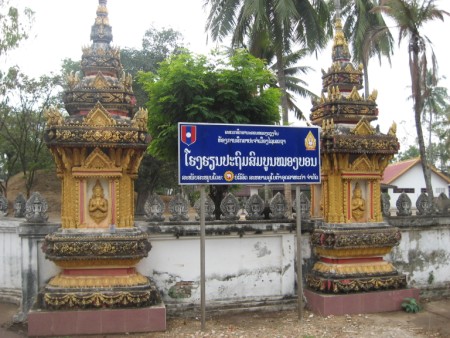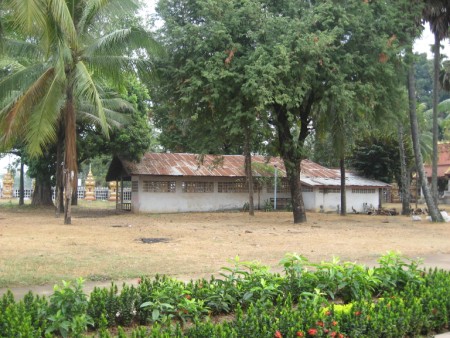 As a little kid I spent a great deal of time at both Wat That Luang and Wat Nongbone, helping with whatever chores I could. I also took English course after dinner at Wat Nongbone. Since I was the youngest kid in class I was often teased by the older students about ghosts coming out at night to get me. Sometimes I would have to walk pass the Sala in the middle of the temple where they would do ceremony for the dead. On the left side of the main entrance is where they phow sop or cremate the body. At night time it is quite scary with the leaves of the Bohdi tree would be waving and making noises. The older kids would tell me that's when the ghosts would come out.
I was so scare of the ghosts but I told myself to be brave each time I went to the night school. Sometimes I would run all the way home. It was very dark from the main street to my house with coconut trees and no light. Sometimes I thought the ghost would be hiding behind the tree to get me. After the death of my sister. I was so afraid to sleep at night because I thought she would come and scare me. I later told myself that if she does come pay me a visit, then I will ask her nicely to not scare me.
Since I wanted to study English so bad I tried to think positive and be brave. I later took typing lesson from a Buddhist monk, who was a friend of the family. The building was at the back of the temple and where all the big Bodhi trees were standing. It was very scary sometimes since the older kids would be hiding behind the trees and would jump out, trying to scare me. I told myself if I want to learn, then I better not be afraid. The teasing didn't last long since they couldn't get to me.