I've been back to the Netherlands for a week as of yesterday. To deal with homesickness I turned to Lao food. My favorite Lao dish is no other than Tum Maak Houng or Lao Green Papaya salad. I made it for lunch and dinner yesterday. It was quite delicious but I kept thinking about how it could be better. I kept comparing yesterday's tums to the many batches I have made during my time in Kansas.

I have to confess the best two tum maak houng I've made this year are the ones from a couple of weeks ago with fresh chili peppers and cherry tomatoes from our garden. For some reason fresh cherry tomatoes give the tum a nice kick with the sweet and sour taste.
The batch for yesterday's lunch was not as crunchy as I normally like. I must have smashed the tum too long.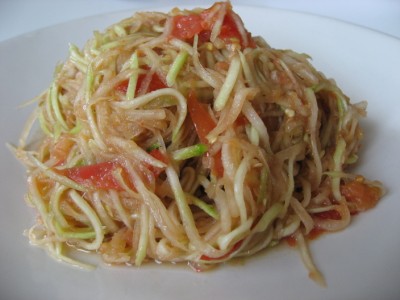 For dinner I made it more spicy to go with chicken hot wings.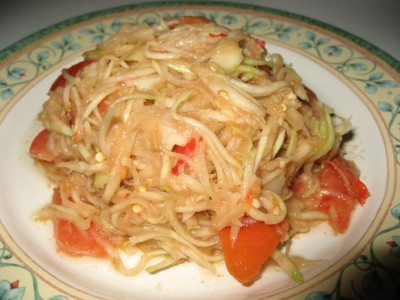 For the next several batches of Tum Maak Houng I will attempt to beat the best two batches from a few weeks ago. Just take a look at these, they tasted really good.
This tum is from October 02, 2006.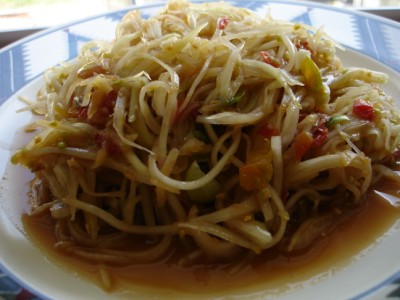 I thought it tasted so good but this one tasted even better. Must be due to more fresh chili peppers and cherry tomatoes. I miss our garden now.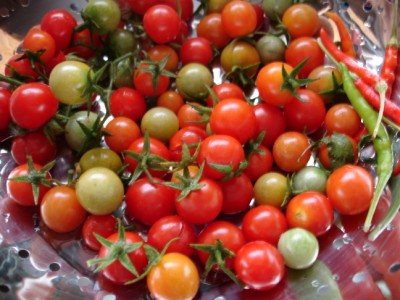 Yes, I used all of the cherry tomatoes above in this particular batch (October 03, 2006).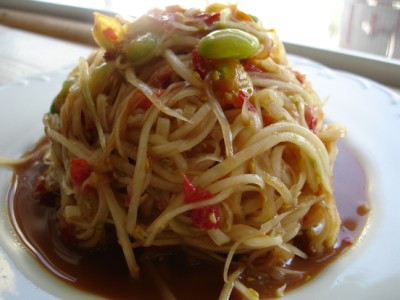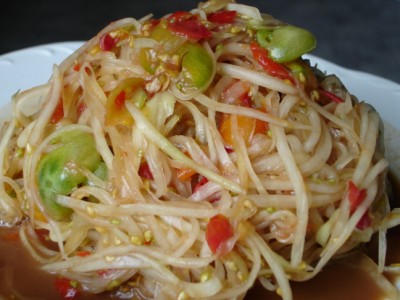 Want to make your own tum? Go ahead and give these a try: Lao-Style Papaya Salad by Naret Sihavong of Phuket Thai Restaurant, and my very own version of Lao Green Papaya Salad.