It was day 23 of my two months in Laos. We didn't get much sleep through the night and were up talking in the early morning hours about Grand Mama. We got a phone call from Aunt Kian while she was still on the bus on the way to Pakse late at night. Grand Mama passed away peacefully and there was nothing anyone can do to keep her longer on this earth. It was a tragic event but the relatives took comfort in the fact that Grand Mama was approaching 94 and said Grand Mama only had so much boun and vatsana to stay here.
Grand Mama from Boun Ok Phansa in 2007

Grand Mama from Boun House in September 2007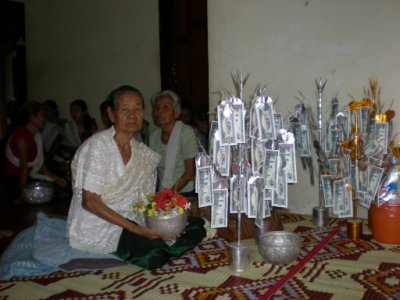 I wanted to go down to Pakse with my cousins for Grand Mama's funeral but the relatives didn't think it was a good idea for me. They said I had done my part and did the best I could for her from the time I knew about her back in October 2006. Both Aunt Kian and Aunt Phone agreed that I need to rest and get well before Boun That Luang since I will be traveling down to Pakse again after the festival.