Sidney's parents picked us up after dinner so we can go shopping with them at Lao International Trade Exhibition and Convention Center (Lao ITECC). It was the last day of a trade fair with mainly Lao products from October 18 to October 26. The only thing I was interested in was a Lao silk skirt for my baby sister. She has asked me to buy one for her in red and golden color and I wanted to give it to her for a birthday gift.
We arrived at Lao ITECC a few minutes after 7:00 PM and spent about an hour walking around looking for great bargains. It was the first time for Sidney to be there so she was all excited and wanted a cell phone bubble toy. After that she was hooked on a riding toy and refused to leave and that gave me more time to take photos of the food court.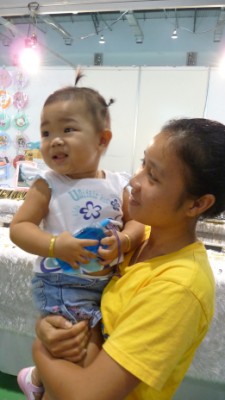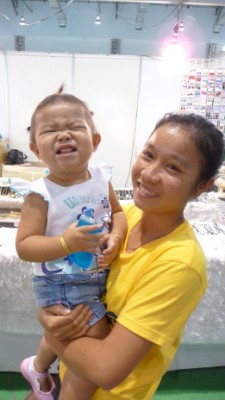 I found a couple of nice sihn and the seller was asking for 1,200 Baht for each and thought it was a fair price. Aunt Kian however didn't agree with the price so we didn't get to buy it. Aunt Kian bought some sour pickled fish and I bought a container of sweet tamarind from a Thai merchant. I noticed how there were many Thai people selling various merchandises at the trade show.
We left the trade show and went across the street to Home Ideal Shopping Center for some white plates and bowls. I was so tired after 30 minutes of walking around and was ready to go home.