Unlike the US, most students here take public transportation to school. I take the train and the bus, when the train is not running. When I get to the campus, I walk, walk and walk. The university doesn't have one big campus like in the US so you can get from one building to the next easily. Walking from one department to another can easily take half an hour. Try that when it is raining or snowing.
To make life easier, most foreign students would buy a use bicycle. It can range from around 100 Euros to hundreds, depending on what you want. Having a good lock is a must. A Korean classmate's bike was stolen because she didn't buy a lock fast enough. Another classmate with a good lock had one of her tires stolen. I guess someone needed a spare tire and decided to borrow one from her and never to return it.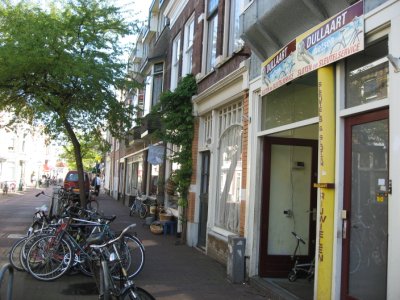 My new friend and I went to get his bike after the first day of class. It didn't come with a lock or even a parking gear. The tail light was missing so he needs to update his bicycle a bit. It is a good bike though and I sat there while he peddled to the administration's building and to the bookstore. What a gentleman.
Of course I didn't want my new friend to take me back to the train station so I told him I would take a bus instead. But after a few minutes of standing there waiting for the bus, the sun came out and I decided to take a nice long walk back. I like to walk because I can look at things and take my time to take pictures along the way.