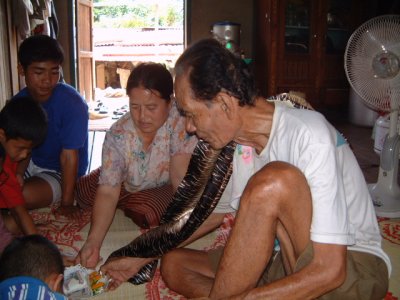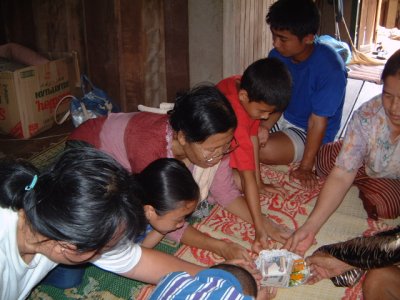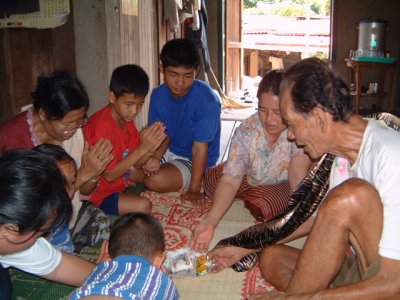 It has been a little over a year since the passing of my Grand-Papa. When I was a kid in Vientiane I never knew he was my blood related relative. I found out last year after he passed away that he was my Papa's father. I had good memory of this nice man and went to pay my respect at his Boun Loy Vanh earlier this year. When I came back from Laos my aunt Kian gave me a CD with pictures of the funeral of Grand-Papa. For some reason I didn't see the few photos of him from Lao New Year in 2004. These photos were of him a few months before his 94th birthday. Aunt Kian was there to wish him a happy new year and asked for his blessings.
Grand-Papa would have been 98 years old as of October 11th, 2007 if he was still alive. Sadly he passed away, less than a week before his 97th birthday in October of 2006.
I have been thinking about his passing the last couple of weeks and trying to process my feelings. I wanted to ask my Grand-Mama about Grand-Papa but since she has been sick the last few weeks I didn't want to give her more stress. Grand-Mama was his first wife and he didn't treat her real well. But after all these years it was Grand-Mama's children that took care of him during his illness and through the last breath he took. It was also the first's wife children that gave him a proper burial. I don't know what was in the past but I have good memory of this man. For better or worse he was my Grand-Papa and was good to me all those years. I want to remember him the way he was to me and will always honor and respect him. He was the man that I admired and wanted to be more than I could be. At 5 years old I wanted to grow up and be an architech  and took over his construction company or be an ambassador like my great-uncle.
I thank Grand-Papa for giving life to my Papa and for my existence. Without them I would not exist. We are not perfect but with love and grace we are capable of so many beautiful things imaginable.