Keeping my promise to Nye aka Ginger, I am posting about my mother, in addition to the post on my Grandmother. I have to confess that I have never been close to my mother for various reasons. Out of all the children in the family I wanted to be so much like her in being strong, calm, and collective. My Mama is the most courageous woman I have never seen in my life. I have only seen her cry once at the moment of my sister's death. While she might have not treated all her children equally, mama has taught me to be self-reliant and independent.
Where do I begin to describe a woman who has been the most influential in my life and yet I know so little about? I can only share what I know about her based on what I remember and from what the adults in the family are able to tell me. Like many other Laotian parents, there are so many secrets and so many stories that we may never know because the adults are not willing to talk about their past. I can only wonder why they can't share the burdens and pains with me. I want to know all, the good, the bad, and the ugly.
What a better way to start at the beginning, talking about my Mama with pictures that I found to go along with the stories. Here is what I know about my Mama.
1. She was born in Ban Keun, the home town of her mother and her grandmother, great-grandparents, as the list goes on as far back as the birth of the town itself.
2. She was the first born in the family. Being a girl and the oldest meant a great deal of responsibilities and extra burden that she must bear later on in life as a teenager.
3. She was raised mostly by her grandparents. Her grandfather was a very strict man. If chores were not done properly, that meant being beaten by canoe paddle.
4. Her parents and great-grandparents placed a great value on education. When her family relocated to Vientiane my Mama was later sent to stay with her uncle (my Grandmother's older brother) to attend school with his daughters.
5. Her favorite subjects were Math and Science. She loves Science the most and especially studying about the human physiology. She played house with her cousins and pretended to be a doctor. She would make dolls out of banana trees and sticks needles made out of bamboo into them, pretending to give injections to her patients.
My Mama (on the right) with her younger brothers and sister in Vientiane. The photo was taken between 1962-1963.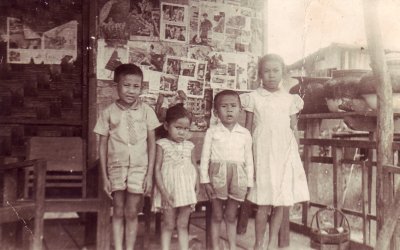 6. During the flood of Vientiane in 1966, my Grandmother relocated the family to Vang Vieng. My mother continued her education there. When she found out about the OB Nursing Program in 1967, Mama begged her mother to change her age so she can take the entrance exam for the OB Nursing School in Vientiane. It was a very prestigious educational program at that time and to graduate from this top notch nursing school in Laos meant a bright future for the selected few.
7. My Grandmother went to the chief of the town and requested for an age change for my mother. Mama became four years older legally and was able to take the entrance exam.
8. Tragic struck her and almost wiped her dream of becoming a doctor. While playing with friends along the Nam Song River in Vang Vieng, one of them fell into the water and pulled Mama's right arm as she was trying to save her friend. Mama was lucky enough to have passed the physical examination for the entrance requirement of OB Nursing School.
9. As fate would have it. She also scored well for the written examination. She was chosen as one of the 32 students across the country and became the youngest member of the class of 1969, the last class for the OB Nursing Program.
Below are pictures of my Mama between 1967-1969. She looks like a typical student with many friends. She was beautiful and proper and was well sought after by many men. There was a joke about how when Mama walked to school and come to a stop at an intersection. There would be 4 guys from different directions waiting to escort her to class.
Mama (standing) with her older cousin in Vientiane.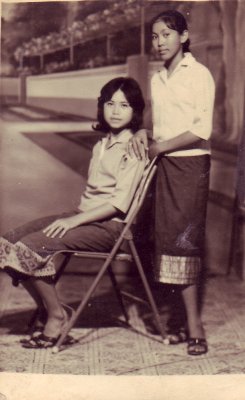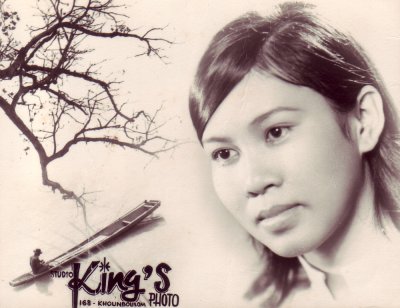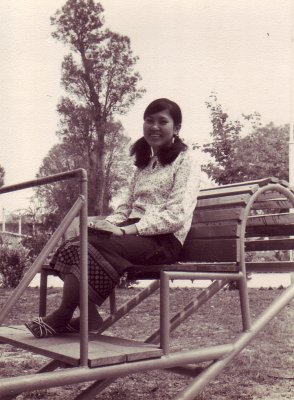 My Mama is the one on the far right with her OB Nursing classmates.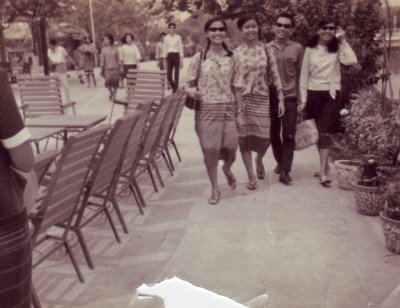 My Mama is the one in the second row, first one on the left if you can't tell her face by now.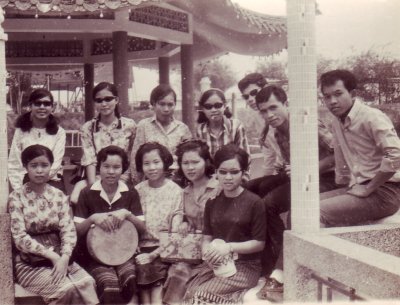 This was another gathering before graduation in 1969. My Mama is the middle one, in the front row.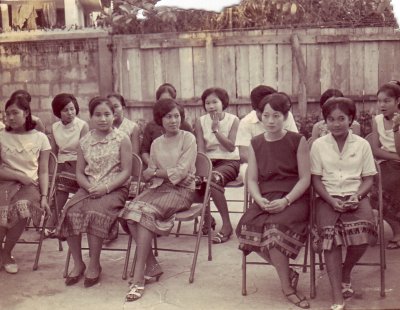 10. During her last year as a student, Mama was informed of her father's death on June 04, 1969. She had to return to Vang Vieng for the funeral and went back to complete a few months of her study. She received her Diploma of Practical Nurse on November 07, 1969. After her graduation, she was stationed in OB Vang Vieng Branch Hospital. My Mama became a life savior for many people, including her own family. She had no choice but to be the second parent to her siblings.