I've been thinking about my Grandmother the last few weeks. I didn't get a chance to visit her grave during my visit to Laos earlier this year. I wanted to post about my Grandmother and even made a couple of posts but deleted them. I was not sure if I should share to the world on the topic of my beloved Grandmother. She was my whole world and everything I did was so I can maker her proud of me. I never had the courage to ask my mother about who my Grandmother was and about her life's journey. What I know about her was based on my observation and pieces of the puzzle that I found myself.
Writing about my Grandmother or even looking at her pictures only bring me tears. It is so difficult to gather enough courage and strength to make a complete sentence, let alone a whole paragraph. When Nye recently posted about her mother I told myself that I should try to do the same, to share what I know about my Grandmother and later my mother. Within days of her posting Nye has tagged me in one of those "10 random facts about my mother" and I told her that I will post about my Grandmother as well as my mother once I am finished with the trip to Laos postings.
I am fortunate enough to have pictures of my Grandmother from as far back as the 1960's. What I lack is information behind those pictures. I called my aunt earlier tonight to ask about a couple of pictures that I found a few years ago of my Grandparents. They were sent to my mother by my uncle and I made it my mission to scan all the family's photos for myself and for my future children.
I will start with 10 facts about my Grandmother and someday would write more about her when I can gather my thoughts more clearly.
1. My Grandmother is the second child in the family. She has an older brother and a younger sister.
2. She was born and raised in Ban Keun. It was her mother's hometown. Her father was from the other side of the Mekong. He was involved in the student protest movement and his family sent him to Ban Keun to protect his life.
3. My Grandmother was not able to read and write as a young girl. Her older brother was allowed to receive education by attending school at the local temple. However, she has to take care of her younger sister and tended to domestic chores.
4. She married in her late teen years like most girls at her age. She was married to a soldier in the Royal Army.
5. After the birth of my mother in Ban Keun, my Grandparents relocated to Vientiane and settled in Nong Duang market area. My Great-Grandparents had a shop there.
6. By 1965, my Grandmother has given birth to 4 children: my mother, my first uncle, my second uncle, and my aunt.
This is a picture of my Grandmother in the summer of 1965 and also of my Grandfather.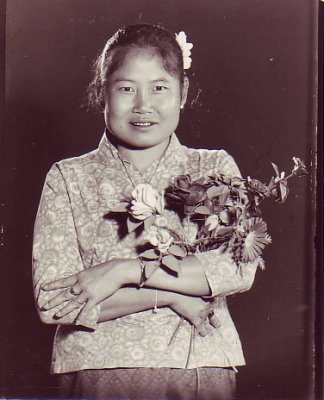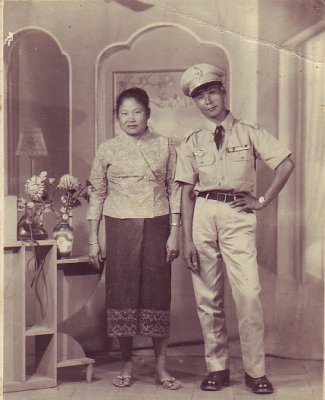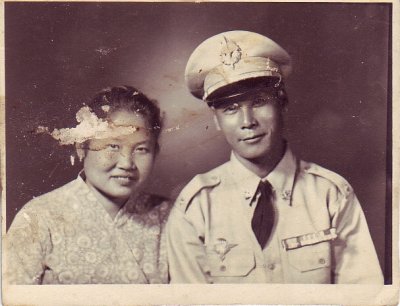 7. In 1966 there was a big flood in Vientiane. My Grandmother lost everything. She paid 3 million kips to have her family relocated to Vang Vieng with food and what belongings they were able to salvaged.
8. Vang Vieng was the choice that she has to make because her husband was ordered to station there and served his duty in the army.
9. While she was not able to read and write, she made sure all her children attended school. She taught them that education is the number one priority. Whether you are a boy or a girl, you can be whatever you want if you apply yourself and attend school to the highest level you can afford. She even ordered a few soldiers to round up her children and took them to school when they wanted to skip school. My mother was punished for skipping school at one point in time. Of course my mother tried to deny the story but then later said she didn't go to school for a few days because one of her friends put lice in her hair and she was ashamed for being tease at school.
10. Being a soldier's wife serving at a time of war has its price. On June 04, 1969, she received a soldier's dog tag from her husband's army buddy. It was covered with blood. My Grandfather was killed doing a routine check on the surrounding area. His vehicle was hit by a rocket-propelled grenade. He was severely injured and was bleeding to death with his legs torn apart. His last words were to tell his wife and kids goodbye and that he loved them and to give the dog tag to his wife. His death was just a beginning of sufferings that my Grandmother must endure in the years to come.