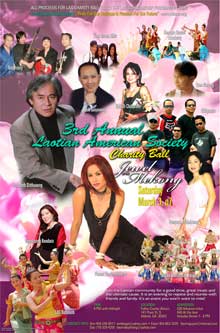 I wish I can attend the 3rd Annual Laotian American Society (LAS) Charity Ball. It's wonderful to see a group of Laotians dedicated their time and energy and making a difference in the community. All the proceeds of the event will go toward a scholarship fund. That is such a worthy project for the Laotian community in the greater Atlanta area.
We don't even have a scholarship fund for Lao students in Kansas. Somehow the Hmong community has such a fund, even for a little amount.
The last time I got to dress up all pretty was at college prom night. I went with a group of friends (all girls) and we had so much fun, dancing and eating all night long. For those that can attend the 3rd Annual LAS Charity Ball, please do some eating and dancing for me, lol.