As a kid in Laos, wearing Lao traditional skirts or sinh was a second nature to me. I went to school in white blouse and blue sinh, just like any other girls. Things changed when we came to the US. While we didn't have a dress code at school, I didn't quite feel comfortable wearing skirts or dresses until my junior year of college. However, whenever I put on my Lao skirt for a social event, I feel like that little graceful girl in Laos. I also get smiles and comments from older Laotians. They make such a big deal out of seeing my youngest sister and I wearing sinh, as if they don't expect such an attire from the young and modern Lao women.
While visiting home over the summer I asked a relative to make four Lao skirts for me, two in modern style and two in traditional cut. At first I only wanted one made into a western style skirt, using a sinh sent to me by my deceased grandmother ten years ago.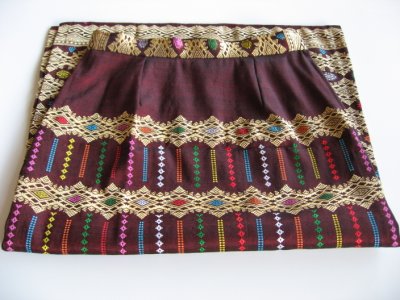 But after going through my mother's closet I found three more patterns that are simple and yet elegant. I decided to turn one into a western style skirt and the other two a traditional Lao style skirt. My two cousins (recently from Laos) told me I should have cut them shorter and that I am way behind when it comes to sinh style in Laos. They said the trend today is to wear them like a mini skirt, way above the knees. My cousins told me how all their friends are wearing short sinh and if I go to Laos wearing my sinh, I will not be in style!
Another Lao skirt in western style, at ankle lenght.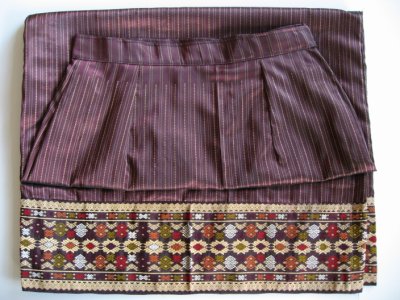 A blue Lao traditional skirt.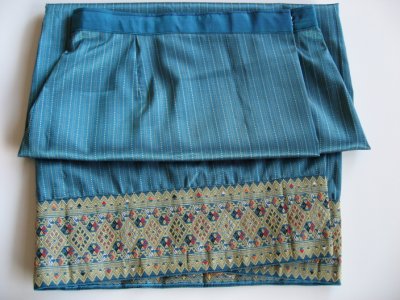 Lao traditional skirt with matching pha bieng (shoulder sash).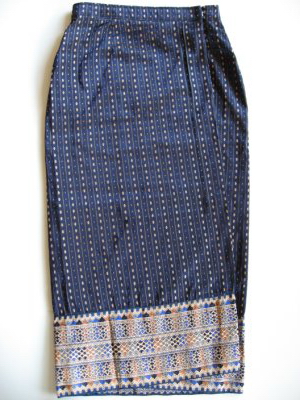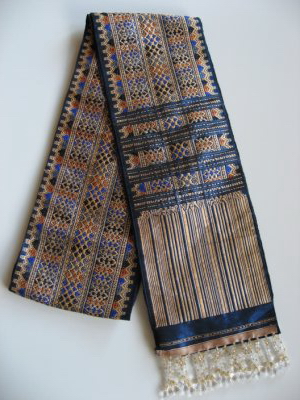 I told my cousins that I am too old to be wearing mini sinh and was not much of a mini skirt kind of person to begin with as a teenager. We all had a good laugh when they said that I am old fashion, something they didn't expect since I have been living in the west for quite some time.