After having taken enough photos and making clips of Dannavieng Elementary School I walked to a relative's house to get a drink of water and rest for a few minutes before heading back to organize my photo albums. It was a good idea to have my netbook with me because I can keep track of my photos and videos easier and also for taking notes of my daily activities.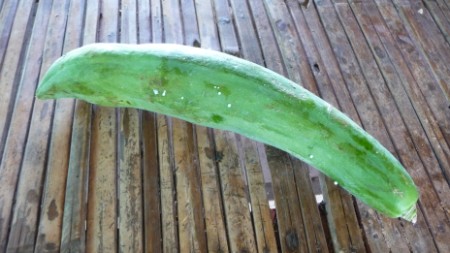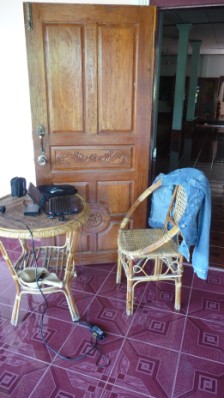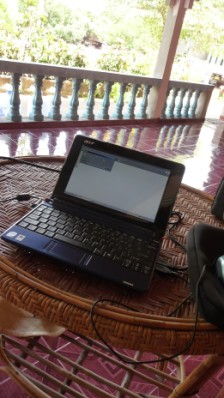 By 11:30 AM the relatives next door were coming back from the rice fields for their lunch break and I had a chance to talk to Aao Phone who is a teacher across the street from Dannavieng Elementary School. This Aao is into technology and has been instrumental in trying to set up a computer room for the students at the school. Aao Phone was the one who took photos for our Dannavieng Book Box Library update and of NongDong Elementary School and has a third job as a photographer (teacher, farmer, photographer). He just bought a new computer and teaching himself photo editing from a Thai self learning program.
Aao Phone said he wishes he could have internet access at his home so he won't have to go to Pakse to use the internet cafe. I could only imagine what kind of world it would be for him and the students in the area if there is an internet connection for them. It would be a giant leap forward for them to have access to a wealth of information one can find on the internet and they can learn so much without leaving their little village. I can see satellite campus and all sorts of E-learning courses in agricultural or other fields of study.