It's time to wrap up the long story of my visit to Laos. I only have a few posts left and would have been finished with all of them by now if I didn't get distract by other sites. I miss posting at my own site but sometimes I have to do what I must do, to promote the other more important sites like Laoplanet.net, Laovoices.com, Laomusic.nu, and Laocuisine.net. I have not even started the rebuilding of Helplao.org. I should do that this weekend.
Anyway, enough with the rambling. The last time I was talking about the visit to Vang Vieng. On our way back from Vang Vieng, we took a different route and had to cross a river which I can't recall the name. I wanted to get back before the sun goes down so I can get ready for dinner with my buddy, Fong. We made a stop in Banh Kern, a home town of my mother's family. Her mother was born there, so was her grandmother and her great-grandmother. I have been there when I was in pre-school and can't recall much of the town, except for the garden, the farm, the river, the playground, and the house of my great-grandparents.
We had to take a little detour because there is a new bridge being built at the moment. The men on the buk told me to take pictures and recording of them. They said by next year there won't be a buk anymore and they won't be there.
Banh Kern is on the other side.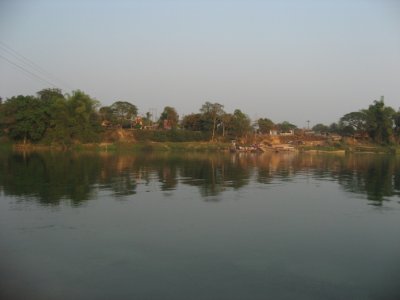 Vehicles lining up for a spot on the buk.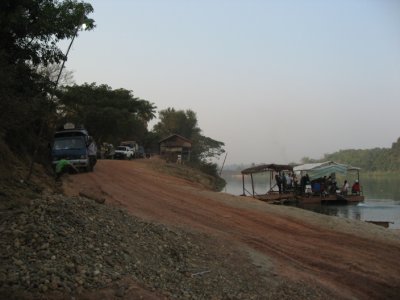 The small buk is for pedestrians and motorbikes.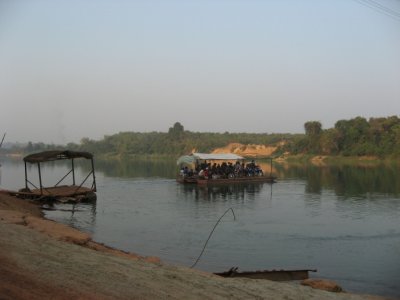 The big one and only one is for cars and trucks and extra people.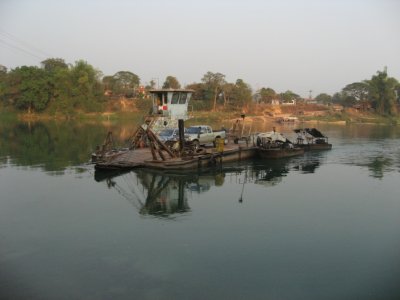 The power behind the buk, one to push and one to steer the buk.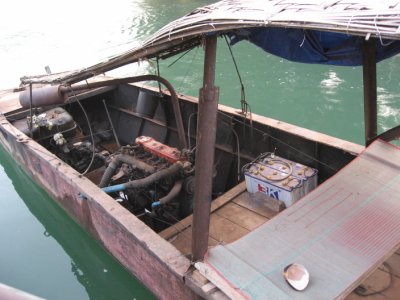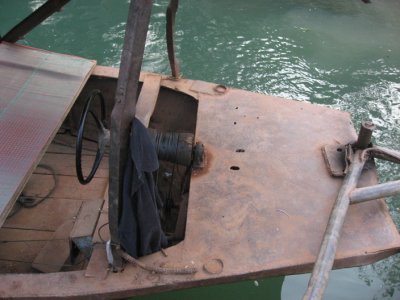 Half way to the other side.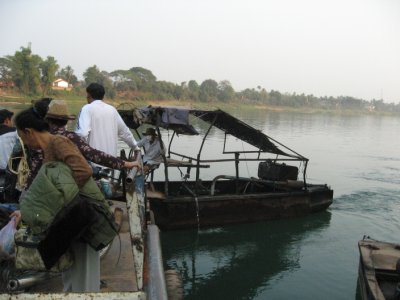 We made it in one piece!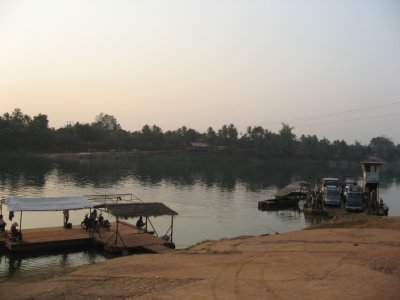 Just look at the beautiful sunset.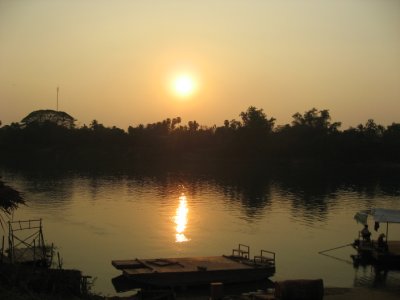 I have always wanted to go back to Banh Kern, so I can put pieces of the puzzles together. I used to memorized the roads to the town when we took a bus or in my great-uncle's car. But in the last few years, I only remember the darkness of the roads at night.
Since we were running out of time, we didn't go see my great-grandparents' place but went to visit my great-aunt-in-law's mother. Grandma Keo is 108 years old but is still able to speak and knows what is going on around her. The last time I saw her was in the summer of 1984 when she came down to visit for the birth of my cousin. When she saw my mother and my aunt told her who she was and the name of my grandmother she said "long time no seen" and gave my mother a hug. She then asked my mother where is "tho phet and tho kai". She was referring to my sister and I. I then said to her that I am tho phet (little duck). Grandma Keo then said, "oh, tho phet yai phen sao leo" which means "oh, you are a grown woman now".
We took some pictures with Grandma Keo and my mother gave her some money. Grandma Keo gave us blessings for healthy and prosper life. I was so shocked to know that she still remember me after all these years. I told my aunt that Grandma Keo must be the oldest living person in Laos. She agreed with me and said that there should be some sort of award for that status.
The sun was fading away as we drove from Banh Kern to Vientiane. I gave Fong a call and told him that I was on my way and he said he would go work out before coming by to pick me up. It was a beautiful day for me. I was in Banh Kern and told myself that the next time I am in Laos, I will spend a few days there, tracing my past and happy memories of that town.