After a long day and a successful search for the fishing nets, we went back home for a nice shower and a quick change of clothes. My parents were going to the garden in Tha Ngon with my aunt for a nice meal. My cousin, Bee selected one of his best hen for chicken laap and soup. I was waiting for my friend, Fong to pick me up for dinner so I didn't go with my parents.
Of course my parents told me to be home early, as in be home by the time my parents are back from dinner. My aunt would drop them off and then go back to the garden. She has to get up early and help count the fishes for the customer and my parents didn't want to sleep on the farm and want comforts of a home with AC.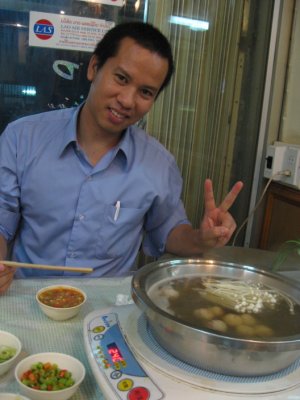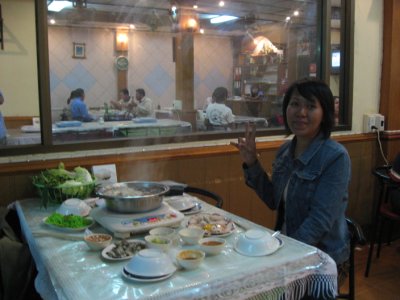 While I was waiting for Fong to pick me up I asked my cousin to take me to an internet cafe. We were surfing online when Fong called me. He felt bad for calling me so late because he went to work out after work. Fong asked where I was and came by to pick me up for dinner. He ordered sien dart and a big bottle of Beer Lao. Fong asked me if I have ever tasted Beer Lao and I told him no. So, I had a few sips of this famous beer, without ice. It is strange for me to see people drinking beer with ice.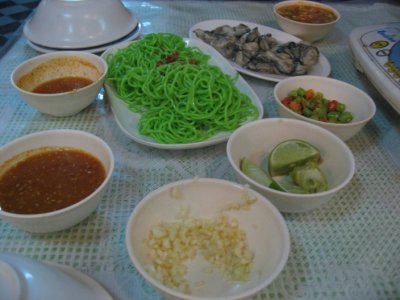 We had a nice chat during dinner about our time at the First International Conference on Lao Studies and the couple of days at Chicago trip. Fong and his wife Phin and I were like the three musketeers in Chicago. It was a pity that his wife was still studying in Japan during my visit to Laos. We promised each other that we will all hang out the next time I go to Laos.
I didn't want to get back late and went home by 22:30 hour. Since I had the key to the bedroom and didn't want my parents to wait for me. Fong said the next time I am in Laos I should stay with his family so all of us can be out as late as we want. He has the right idea there. 🙂