Rotterdam is one of the world's largest ports, located on the Nieuwe Maas, 30km or 19 miles from the North Sea. The city was almost completely destroyed during the Second World War. Rotterdam has been entirely rebuilt and has a great deal of important modern architecture.
The Erasmus Bridge (Erasmusbrug) was completed in 1996. It links the old and and new center of Rotterdam. The bridge also has a nickname of the Swan bridge and that's how I tend to refer to it.
It's quite a view at night time. You be the judge. I took these photos on August 25, 2006 at 21:13 hour. It's not quite dark yet.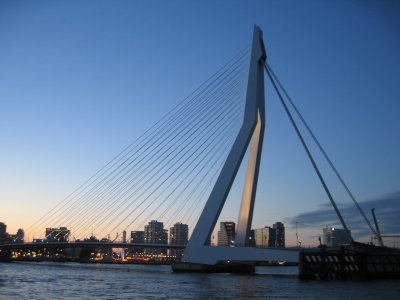 I made two mini clips using my digital camera. The quality is not that high but you get the idea.
The second clip was recorded a few minutes later. The lights from all the buildings lit up the sky.
You can hear the noises, just like any typical suburban city.