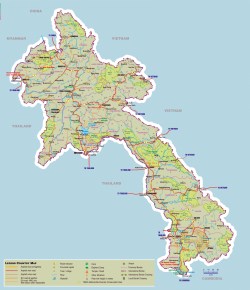 I saw several reports on Facebook from my relatives and friends in Laos about feeling "the shaking of the earth" at their homes earlier today.
These reports came after all days of posting about Christchurch Earthquake. There were pouring sympathies to the people of Christchurch and then talks on whether or not Laos is prepared for such a natural disaster.

Apparently, they felt the earth shaking for a few seconds and were checking the news for an official report. I searched on Google for some news and found The earthquake was measured at magnitude 4.6 by the U.S. Geological Survey.
I hope there is little damage or no damage from the earthquake and no one was injured from the incident.
Updated News of the earthquake in Laos from Lao and Thai Media on 24-02-2011
Vientiane Times – Earthquake rumbles through northern Laos: An earthquake measuring 4.7 on the Richter scale occurred at about 11pm on Wednesday in Xayaboury province, according to the Lao Meteorology and Hydrology Department.
Bangkok Post – Laos quake no effect on Thai dams:
An earthquake of 4.7 magnitude of 4.7 that hit northern Laos on Wednesday night caused no damage to hydro-dams in Thailand, an Electricity Generating Authority of Thailand official said on Thursday.
MCOT Online News – Lao earthquake damages Nan's Phrathat Chae Haeng:
A 4.7-magnitude earthquake hit the Lao Peoples' Democratic Republic late Wednesday, causing underground movements which could be felt in many provinces of Thailand and cracking the walls of the structure housing revered Phrathat Chae Haeng in Thailand's northern province of Nan.
The epicenter of the earthquake was in Sayaboury province of Laos, about 55 kilometers from Nan's Mae Rim district.