Last Sunday I was still too sick to be walking around Rotterdam. I wanted to send money to Laos so Johan took me to the Money Gram agent at Rotterdam Centraal station. This is the second time that I used the service of Money Gram because it is easier than going to Western Union. I normally use the service of Western Union at the post office but the worker there has to enter all the information each time. Western Union has a new policy in place for several months now that you can only pick up the money in Laos in Lao currency. You can't sent money online either, not from the Netherlands anyway to Laos.
With Money Gram, you can take out the money in either Kip or Dollar. They would charge you one dollar to have the money in US currency. This time Aunt Kian went half and half, taking half in Kip and half in Dollar amount. Some Money Gram agents in Vientiane even open till 23:00 hour on Sunday. That is 11:00 PM.
Since I had a few minutes before the Chinese grocery store closed I decided to make a quick stop and bought ingredients for making Lao bamboo shoots soup. Having post a picture at Laovoices.com of bamboo soup, I was having a craving for it. Afterward I took Johan to my favorite Dim Sum and Noodle restaurant for dinner.
I shared the 8 pices dim sum with Johan. For the individual dim sum, he ordered something with meat and mushroom while I went for squid in spicy sauce.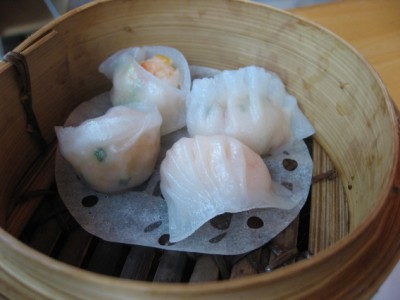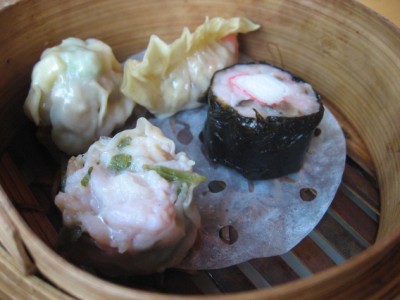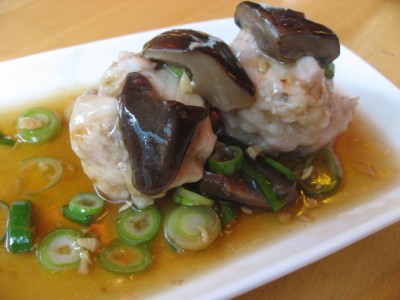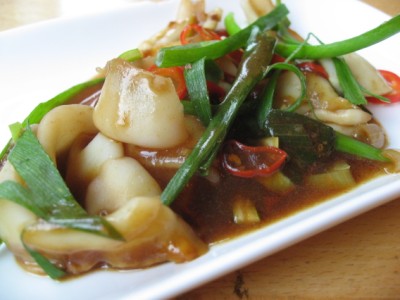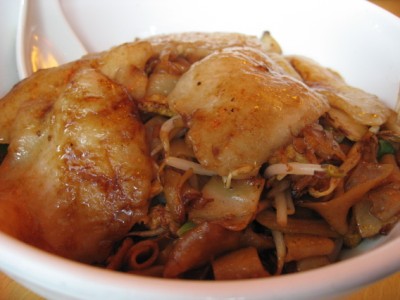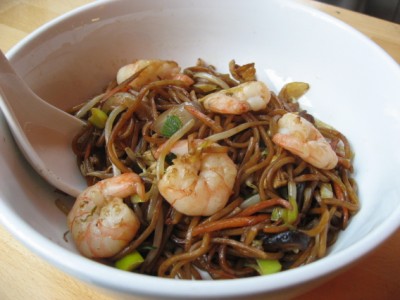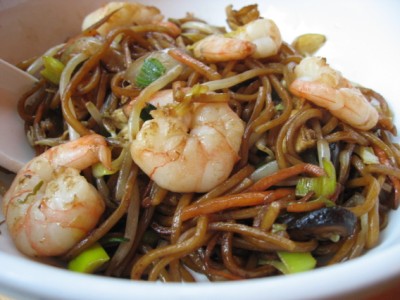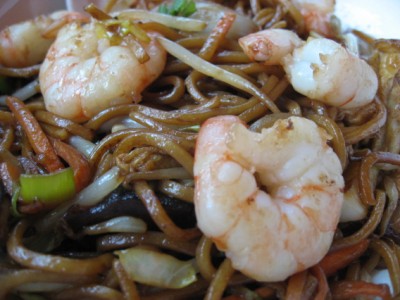 For the main meal, I ordered shrimp stir fry noodles with wide noodles and Johan ordered fish fillet stir fry with whole wheat noodles. They messed up the ordered and gave Johan wide noodles and also gave me fish fillet stir fry with whole wheat noodles but I said I wanted shrimps. That was the first time they got the order wrong. We always ordered the same thing to the point that the waitresses know our order by heart. In the end all was well and we had Chinese tea to wash down the greasy part of the meal. All in all it was 30 Euros including tip. It's not customary to give tips in the Netherlands because the waitresses make a certain amount of salary. But in a tourist town like Amsterdam, most tourists do give tip but 99.9% of the Dutch people I know don't give tip, unless the service is extra ordinary. Since I used to be a waitress my first year of college I tend to give tip, at 10% minimum, just to show my appreciation. They do remember you the next time you go there and you tend to get a better service and better seating area.