A few weeks ago my Grand-Mama woke up at 4:30 AM to find a snake in her bed. She normally gets up early in the morning to do her daily prayer. On this particular morning the snake was in her Jair Khun. She was so afraid that she started to scream and ran outside even though she could barely walk. Having a snake in the house is something that she took seriously. I don't know much about Lao superstition but such an incident required some sort of ceremony or a boun to take place. Five Buddhist monks were invited to do a soot ceremony on the evening of September 1st and on the morning of September 2nd.
Grand-Mama was busy making this thing that I have no idea what it was. This was to be used for the soot ceremony.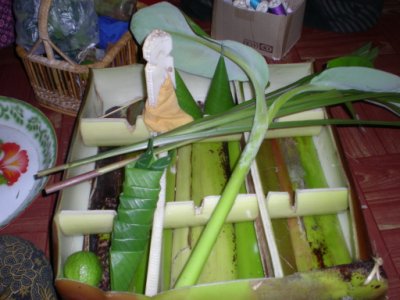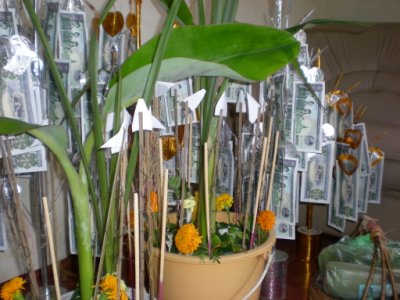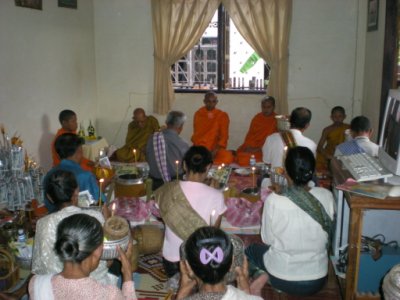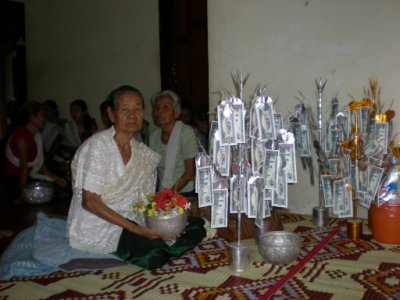 There was a Morning Alms Giving on September 2nd, after a soot ceremony. I sent a digital camera, some money and also chocolate candies for the Morning Alms Giving. My Grand-Mama wanted the best candies for the offering and was very happy to have Dutch chocolate for the Morning Alms Giving. I don't quite understand the meaning of the snake in Lao religious belief but I am happy to be able to help my Grand-Mama so she can have a better sleep at night. My aunts told me that Grand-Mama was worried and thought maybe the snake was a bad sign of some sort. I didn't want to ask too much questions. In the end my Grand-Mama deserves a peace of mind.